Mother's Day Breakfast Ideas & More…(this one's for the kids!)
With Mother's Day just around the corner, we thought we'd share a few simple, healthy breakfasts that the little ones can prepare with an older sibling or responsible adult for Mum's Mothers Day breakfast.
1) Wholemeal yogurt pancakes (with blueberries)
These thick, rich, delicious yogurt pancakes are a breakfast winner both in taste and nutrition, made with wholemeal flour, Greek yogurt, and blueberries.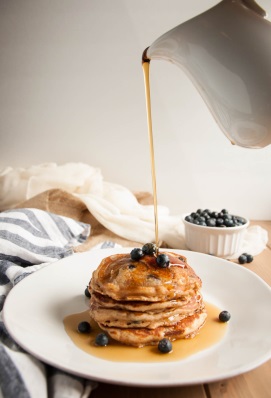 Prep time: 10 mins, Cook time: 15 mins, Total time: 25 mins
Ingredients
1 cup wholemeal flour
½ cup milk
½ tsp baking soda
2 Tbsp. 'A' grade maple syrup
1 tsp baking powder
1 egg
½ tsp cinnamon
½ tsp. vanilla extract
¼ tsp. salt
2 Tbsp melted coconut oil (+1 Tbsp to grease pan)
½ cup plain Greek yogurt
1 cup blueberries
Method
Mix flour, baking soda, baking powder, cinnamon, and salt together. In a separate bowl, mix yogurt, milk, maple syrup, vanilla, and 2 Tbsp. coconut oil. Add the egg to the liquid ingredients and mix thoroughly.
Stir the dry ingredients into the wet mixture and stir until just combined (don't over mix!).
Heat a frypan over medium heat and melt the extra coconut oil.
Once the frypan is hot and the coconut oil is melted, ladle the pancake batter onto the frypan. Let pancakes cook for 2-3 minutes until bubbles form. Flip and cook another 2 minutes until other side is lightly browned. Remove and set aside. Repeat with remaining batter.
These pancakes are a much healthier option to the premixed variety; the wholemeal flour adds an extra layer of vitamins and fibre, whilst the Greek yogurt adds protein and filling staying power that most pancakes just don't give you.
2) Flour-less Almond Hotcakes with Berry Compote
[Gluten-Free, Refined Sugar-Free]
Hot Cakes
Prep time: 5 mins, Cook time: 5 mins, Total time: 10 mins
Makes 4 dense hotcakes
(This recipe is also very easy to double or triple for larger groups)
Ingredients
1 cup Almond Meal
2 eggs
1 teaspoon GF baking powder
¼ cup of milk of your choice*
½ tsp of vanilla extract
½ tsp of cinnamon
*Can use soy, almond, coconut or cow's milk
Method
Mix all ingredients in a medium sized bowl using a hand blender or stick blender until batter is a pour-able consistency.
Cook all pancakes in a large pan for approximately 2-3 minutes per side until bubble form and both sides are golden brown.
Variations: you can add blueberry to the batter for blueberry or raspberry hotcakes
Mixed Berry Compote
Ingredients
1 cup of organic mixed frozen berries
2 tablespoon of filtered water
1 diced apple
2 drops of liquid stevia
Method
Place all ingredients in a small pan & gently bring to the boil.
Cook until apples are soft.
When hotcakes are ready, top with Berry Compote
3) Vanilla Chia Breakfast Pudding
Chia pudding is a great healthy breakfast option that mum will enjoy and is easy-to-make. Packed with fibre, protein & omega 3, mum will love this yummy treat.
ps. Make sure you prepare it on Saturday night so it has time to gel together in the fridge overnight.
Prep Time: 5mins, Total time: 5mins + overnight refrigeration
Ingredients
½ cup of chia seeds
2 cup almond milk (any other milk would work too)
2 tablespoon raw or organic honey (or organic maple syrup)
1 teaspoon vanilla extract
1 cup of fresh raspberries (or experiment with your own toppings)
Method
Place the chia seeds in a small bowl.
Add the almond milk, honey and vanilla essence and stir to combine.
Pour into individual jars, glasses or ramekins.
Place in the refrigerator and let it set overnight.
Remove from the refrigerator, check that the chia seeds have gelled and add your topping.
More Mother's day ideas 
Whether breakfast in bed is on the cards or not, there are other ways to show mum how much she means when she wakes up in the morning, here's a few more ideas to keep in mind
Freshly Squeezed Orange Juice
Tea in Bed
Fruit Platter
Handmade card with a poem or short story